Here is another chance for me to "tell something good." Thank you, I will take it.
Something good from school: At the end of writing Thursday we had a "museum share." I saw that somewhere this week...(I read so much, I cannot remember where...sorry) The kids left their writing on their desks and we strolled around, reading and looking. We had a chance to see who is writing neatly, and read what others wrote. We all really loved it. That is definitely going to be a weekly event.
Something good from home: I get to be home all day, except for the hour at a basketball game (which was in town). My goal (and it is partially complete): find or create a wonderful, digital lesson plan form that is functional and fun to look at. Love my blog buddies and TpT friends. Good ideas, freebies, and information.
If you have some good things to share...link up with Jennifer at
Rowdy in First Grade
. Or head on over and read some more good things. It is a great way to share the positive events in our lives.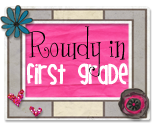 I also want to thank Allison at
Teacher Life in Room 102
. I won her giveaway earlier this week. 3 novel units. I think this might be great for my higher readers. Thanks again Allison!