It's Wednesday. Mid-week. Time for a pick-me-up pep talk.
I can do it. We can do it. It will get done. It will be done well.
Last month Jennifer from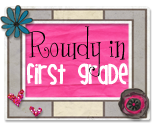 had a linky party about telling something good from school and home. I joined. You could read about that
here.
As far as I can tell, she is not doing it today, but I am in the mood to "tell something good."
School:
Every other week our social worker comes into my class and gives a lesson to the kids. Today was that day. Her focus was on greeting friends and new people. They talked about how a greeting looks, what it sounds like, and how it feels. Then they got to practice. Giggles, smiles. So fun to see them do this.
As she was leaving I bragged on the class a bit. I told her that one of our class jobs is the "greeter," this person greets visitors to the class. She was intrigued by this and had our greeter show her what "greeting" in our class means.
This is what he did... Stood up, stuck his hand out, made eye contact and said, "Hi, my name is ______. Welcome to our class." Very shyly he looked at me and grinned--making sure he did what was expected. I grinned back at him and got teary. Then she looked at me and smiled real big. It was good.
Home:
I love listening to my sons play the piano. They do not like playing piano. Practicing piano. Going to piano lessons. Or anything that has to do with the piano. But I am so lucky to be listening right now to my son play some really cool songs.
What's good in your home and school?