I love pens. Notebooks. And paper.
Except when I am trying to find a specific paper in my classroom.
You can ask my teaching partner...
We will be talking/planning and I will say something like, ok, let me find that paper. I think it is in this pile (or binder or file). She just laughs.
Last year I toyed with Evernote. But I really didn't know what I was doing or how to use it. So, I am intrigued that Alison at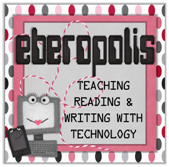 is having a "Going Paperless Challenge." (And during this challenge she is going to teach me tricks/tips/how to be paperless. This will make my husband happy. Save some paper. Save some trees. Yahoo!)
Mission #1 is
Gather Tools
. I have Evernote, but want to gather a couple of more (free) tools over the weekend.
Mission #2 is
Build Evernote Notebooks
. I'm really excited about this one. Will this take place of my awesome composition notebooks that I like to take notes in? Or will it be something else? Baby steps, I think. I will start this tomorrow night during family movie night. Movies bore me, unless Edward makes an appearance.
Are you interested in adding "one more thing" to your plate this year? Hop on over to read more. Join us. In blogland or in commentland or in neverland.