Thanks Kacey for hosting this linky each week. I love thinking about what to share.
Five things from my week:
1. We constructed the March quilt on Wednesday. So cool. I love how they are getting better at making triangles from squares. Last weekend I pored over the first grade geometry CC, getting ready for this week and next week. So, when we made the quilt on Wednesday I was shocked, surprised, and pleased how that activity fit so well into the CC. Big time score. Check out the geometric math quilts unit on TpT
here.
(I still need to trim the bottom now that all the students have added their squares.)
2. We are loving our unit on American Symbols. Really all my kids need to do is identify 6 symbols (Statue of Liberty, Liberty Bell, White House, etc.), but Teacher to the Core created an amazing
unit
with fluency passages and lots of great activities, so that is what we are doing. The kids love it, I love it, and yesterday after reading the newest passage they sat in groups and reread any previous page. Smiles. Learning. Reading Informational Text. It was so Common Core.
3. During the Cloverbuds rotation on Wednesday my group made bird feeders out of toilet paper tubes. It had nothing to do with "eating a variety of foods" which was the lesson, but, it was fun. I saw the idea
here
through a party.
(We hung 75-80 on the three trees and two bushes we have in front of our school. I wonder if the birds will eat them or not...)
4. I wish I could find a note that was given to me this week. I am so sad I misplaced it. From my first grader. It said, "I love you more than candee" Isn't that awesome! I love her too.
5. Each Friday my husband and I , along with our two boys, eat homemade pizza and watch tv or a movie. We are currently done with the pizza and are now watching Star Trek The Movie.
That is my five. Hop on over to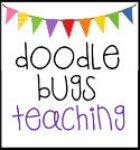 to read more week recaps. Truly, it is fun, and I make more friends. Double win. Happy Weekend!